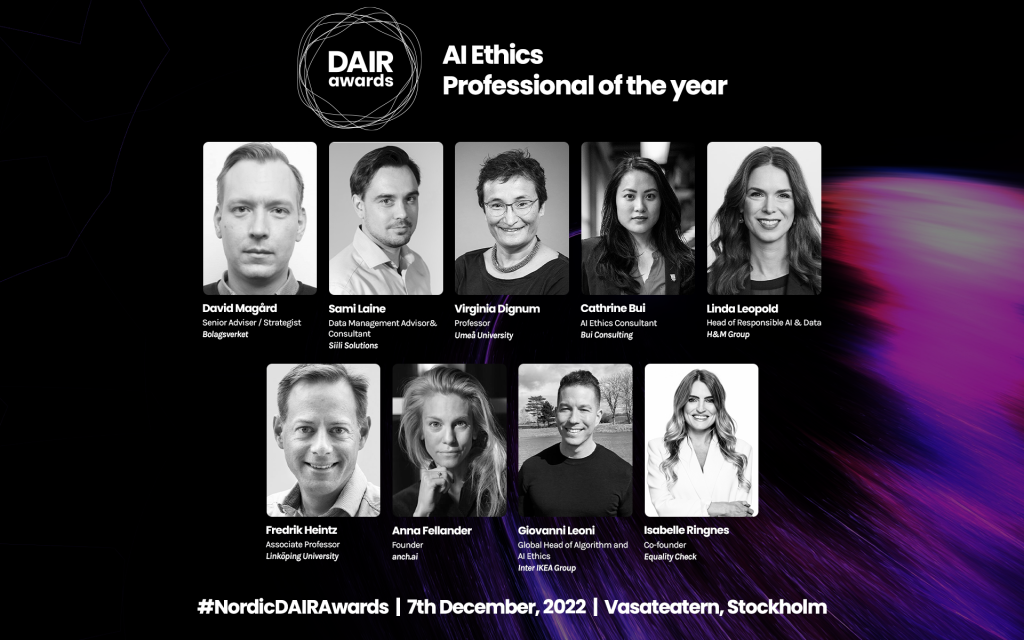 DAMA network activists nominated for DAIR Awards
28.11.2022
The hard work by Nordic DAMA chapters have received wide public attention. The VP of DAMA Finland ry, Sami Laine, has been nominated as a candidate for 'AI Ethics Professional of the Year'. In addition, the VP of Data Management Association Norway (DAMA), Winfried Adalbert Etzel has been nominated to 'Data and AI influencer of the year' category.
You can vote them or other activists in the DAIR Awards 2022 website:
Vote for DAIR nominees
Although these nominations were for individuals, they would not have happened without DAMA network and shared community efforts. For example, in this case, you can listen the MetaDAMA Podcast on Trustworthy AI organized by DAMA Norway. This session was recorded at 15.12.2021 and delivers the two DAIR Award nominees in a single podcast around the very topics they will be later nominated for! The future is created at DAMA events like these.
Therefore, join the DAMA Finland association here to be part of the future that others will be speaking about! There's always room for the potential next influencer of the year: DAMA Finland membership.
But what exactly is AI Ethics and more widely Data Handling Ethics – a knowledge area of data professionals and a chapter in the DAMA DMBOK. Here's some comments provided by the nominee Sami Laine itself taken from his LinkedIn posts.
ETHICS MATTER IN DATA AND AI
To stay competitive in the future ESG oriented markets, ethics can become a critical competitive advantage for premium companies and compliance will be a mandatory requirement for all companies. The pioneering methods like AI Design Sprints and Trustworthiness Assessments will become more common in a form or other. They might not be the ones that we studied and developed during the AIGA-project but they will be part of everyday data and analytics work in a few years.
I'm positive that quite soon you cannot make a single AI system without such methods – they will be used by us consultants or maybe even our customers itself. They will be used to guide and evaluate our work as data and analytics professionals. The forthcoming European Union AI Act will make that sure – it will be what GDPR was for data management but now for AI systems in business operations and decision-making. Everyone has to know the AI Act laws as professionals and citizens.
To learn more about AI and Data Ethics check these books:
Responsible Artificial Intelligence.
Virginia Dignum
https://www.amazon.com/Responsible-Artificial-Intelligence-Foundations-Algorithms/dp/3030303705
Ethical Data and Information Management: Concepts, Tools and Methods.
Katherine O'Keefe, PhD, Daragh O Brien
https://www.amazon.com/Ethical-Data-Information-Management-Concepts/dp/0749482044
NOMINATION IS A GROUP EFFORT
This nomination would not be possible without hard work of our Siili Solutions AIGA research team: Jarkko Malviniemi, Andrea Vianello, PhD, Caroline Chang Liu, Elsa Tuomi, Promila Roychoudhury and other participating Siili employees. During the AIGA years, we got time to truly study the topic and methods that will be important for all companies during the next decade. 
A lot of thanks goes also to researchers at Turun yliopisto – University of Turku (Matti Mäntymäki, Najmul Islam, Teemu Birkstedt, Matti Minkkinen, Samuli Laato, Mika Viljanen) and University of Helsinki (Tommi Mikkonen, Mikko Raatikainen) to name a few who I have had most of the discussions with on the topic. Their published research can be found here:
https://lnkd.in/dh2jtTTK
And many thanks also to all the other AIGA consortium companies and their experts due to all the interesting discussions and insight during the last two years.
The AIGA partners: OP Financial Group, Verohallinto, Solita, Siili Solutions, Loihde Advisory, DAIN Studios and Team Zefort.
Antti Rannisto, Manu Setälä, Timo Lehtonen, Anna Metsäranta, Saara Hyvönen, Ulla Kruhse-Lehtonen, Hugo Gävert, Sami Masala, Nino Ilveskero. Some of their insight can be found from the AIGA project outreach lists including blog posts, magazine articles, webinars, panels and other similar channels:
https://ai-governance.eu/about-aiga/outreach-activities/
Many of my presentations, also listed in the website, were inspired by and my argumentation was clarified with the help of discussions in the project channel.
The project is funded by Business Finland.
EVERYTHING HAS A HISTORY
Information Technology and Ethics, date 5.12.2003
Turun yliopisto – University of Turku, lecturer Kai Kimppa
Student Sami Laine, 6 credits, 5 grade
My first introduction to Ethics. I guess teachers sometimes do manage to teach students something that will change their life. It might not always look like that but twenty years later. By the way, PhD. Kimppa helped to draft also the first Code of Ethics for the entire Tivia network at early 2000s. The true pioneers were promoting ethics decades ago. Well, considering the field of philosophy – thousands years ago.
Tivia Code of Ethics for Information Technology Professionals